Message from Intergroup Chair Vickie M regarding AA materials at TEC:
We will be able to access our small room to remove items from our cabinets. We need to do this in an orderly fashion, be into and out of the room as quickly as possible. So the next step is for a representative of each group to call me (541.410.3481), we need to have containers or boxes with to carry out our contents and make sure that we wear footwear that will protect our feet from debris.
Doing the next right thing in loving service, Vickie
Though there is a lot of damage through the ceiling, the supply cabinets appear to be intact, as shown in this photo (click on thumbnails for larger views):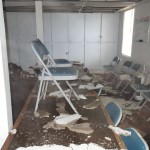 Other photos of the Meetings areas at TEC:
Again, please contact Intergroup Chairperson Vickie M, 541.410.3481 to arrange access to retrieve your Group's materials.