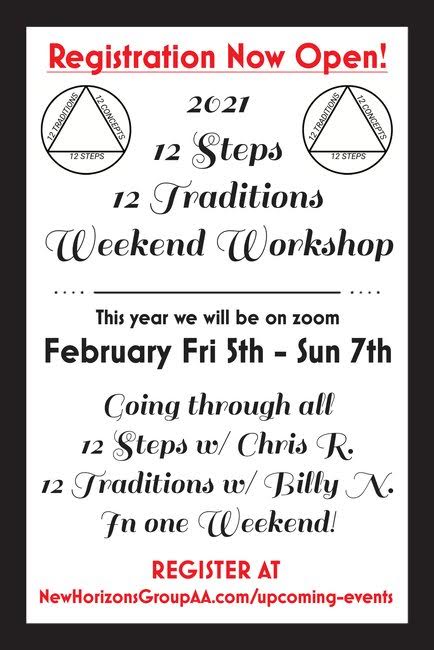 There is no registration fee for this event. However, registration is required.
Registration filled up fast and closed at 500. The committee met yesterday and has decided to open up the room to 1,000 due to the fact some here in Central Oregon didnt get registered in time, and we would really like to include everyone in the Central Oregon Area.
What:
An adventure through all 12 Steps and 12 Traditions in ONE WEEKEND!
Chris R. from the Ingram Solution Group in TX will be taking us through all 12 Steps. Chris has been facilitating Big Book workshops for decades, and has taken hundreds, if not thousands through this work.
Billy N. from the Alpharetta Unity Group in GA will be taking us through the Traditions. Billy is a past General Service Trustee, and past Chair of AA World Service board, and has been in love with the Traditions for decades.
For your Calendar:
Friday Feb 5, 2021 5pm – 8pm Pacific Time (with a break)
Sat Feb 6, 2021 9am – 11:30am Pacific Time (with a break)
THREE HOUR LUNCH
Sat Feb 6, 2021 2:30pm – 8pm Pacific Time (with 2 breaks)
Sun Feb 7, 2021 9am – 11:30 Noon Pacific Time (with a break)